mardi 23 décembre 2008
FACEFOOD : recettes et vidéos du nouveau livre de Grant Achatz chef du restaurant ALINEA de chicago
Bonjour à tous,
Aujourd'hui je vais faire une exception en vous présentant des recettes et des vidéos en anglais de Grant Achatz, chef du restaurant Alinea de Chicago. Je vous avais parlé il y quelques semaines de la sortie de son livre événement. Hé bien le mien doit être livré la semaine prochaine ! ce qui me donne le droit d'accéder à son site multimédia ALINEA MOSAIC, réservé uniquement aux personnes qui ont commandé le livre. Un site ou on peut voir des vidéos, apprendre des techniques, des recettes et beaucoup plus....
Donc, en attendant de le recevoir et de vous transporter dans l'univers de ce chef d'exception, voici un avant-goût de ce livre qui est à mon avis l'un des plus beaux livres de cuisine et de gastronomie au monde et l'un des moins cher ! Figurez-vous qu'il contient près de 600 recettes plus innovantes les unes que les autres pour la modique somme de 31$. Il est considéré aux Usa comme le livre de l'année. Un véritable cadeau de Noël que nous offre Achatz.
Malheureusement il est en anglais pour nos amis francophones.
HOT POTATO
cold potato, black truffle, Parmesan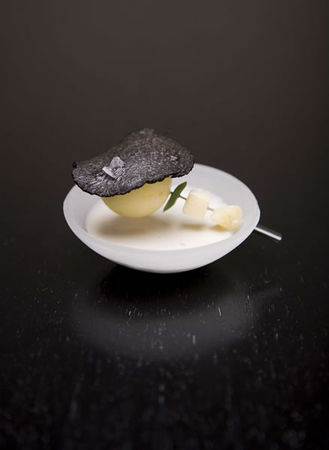 Potato Soup
100 g (3.5 oz) Yukon Gold potato
225 g (7.9 oz) black truffle juice
500 g (1 lb 1.6 oz) heavy cream
25 g (.9 oz) white truffle oil
5 g (.2 oz) kosher salt
Peel potato and cut into 1/2-inch (1.3-cm) dice. In medium saucepan, bring potato and truffle juice to a boil over high heat. Reduce heat to a simmer and cook for about 20 minutes, or until potato is tender. Add cream, return to a simmer, and then remove from heat. Transfer to blender and blend until smooth. With blender running on high speed, add truffle oil in thin, steady stream. Add salt and blend briefly. Strain through chinois into covered container. Refrigerate for at least 8 hours.
Potato Balls
1 medium Yukon Gold potato, unpeeled
450 g (15.9 oz) clarified butter
Using 1/2-inch (1.3-cm) parisienne scoop, scoop out balls of potato flesh. In small saucepan, cook clarified butter and potato balls over medium heat for about 20 minutes, or until tender. Butter will bubble, but balls will not brown. Remove from heat and set aside in pan until needed.
Butter
30 g (1.1 oz) unsalted butter, very cold
Cut butter into 1/8-inch (3-mm) cubes, dipping knife in hot water and wiping dry before each cut. Freeze until needed.
Parmesan
30 g (1.1 oz) Parmesan cheese
Cut Parmesan into small chunks about 1/8 inch (3 mm) wide.
Chives
3 chives
Cut chives on bias into 1/2-inch (1.3-cm) lengths.
Truffles
2 fresh PŽrigord black truffles
Using mandoline or truffle slicer, cut truffle into very thin slices.
To assemble and serve
Maldon sea salt
Pierce side of paraffin bowl with stainless-steel pin. Slide 1 Parmesan chunk, 1 butter cube butter, and 1 chive length onto pin, spacing them about 1/4 inch (6 mm) apart. Fill paraffin bowl about halfway with potato soup. Refrigerate bowl. Gently reheat potato balls in clarified butter. Remove soup-filled bowl from refrigerator. Slide 1 hot potato ball onto pin, and drape ball with 1 slice truffle. Top with salt flake.
---
CHOCOLATE
warmed to 94 degrees
Braised Figs
12 Black Mission figs
250 g (8.8 oz) ruby port
125 g (4.4 oz) dry red wine
60 g (2.2 oz) glucose
25 g (.9 oz) sugar
Remove stems from figs. Cut figs in half from stem to blossom end. In medium saucepan, bring port and red wine to a boil over high heat and boil for about 5 minutes, or until alcohol has evaporated and volume is reduced to about one-sixth. Add glucose, sugar, and figs, cover, and simmer over medium heat for about 30 minutes, or until figs are soft. Strain through strainer, reserving figs and liquid. Let figs cool to room temperature. Return liquid to saucepan and reduce until it forms a glaze. Let glaze cool to room temperature. Place figs in small container, pour in glaze, cover, and reserve at room temperature.
Bergamot Tea
125 g (4.4 oz) dried figs
70 g (2.5 oz) sugar
500 g (1 lb 1.6 oz) water
20 g (.7 oz) glucose
3 g (.1 oz) kosher salt
15 g (.5 oz) Earl Grey tea
7 g (.2 oz) Ultra-Tex 3
In medium saucepan, bring dried figs, sugar, water, glucose, and salt to a boil. Remove from heat and add tea. Cover and let steep for 5 minutes. Strain through chinois Let cool to room temperature. Add Ultra-Tex 3 and blend with immersion blender for 3 minutes.
Dehydrated Chocolate Mousse
300 g (10.6 oz) bittersweet chocolate, 72 percent cacao
330 g (11.5 oz) egg whites
3 g (.1 oz) kosher salt
100 g (3.5 oz) sugar
5 egg yolks
Fill medium saucepan about half full with water. Bring to a simmer. Place chocolate in medium heatproof bowl. Place over (not touching) simmering water and heat until melted, stirring occasionally. While chocolate is melting, in stand mixer fitted with whisk attachment, whip egg whites and salt on high speed until whites begin to foam. Add sugar and whip until just before stiff peaks form. When chocolate is melted, remove from heat and whisk in egg yolks. Chocolate will start to break but continue to whisk in yolks. When yolks are almost completely incorporated, using rubber spatula, fold in one-third of whipped egg whites to leaven chocolate. Then fold in remaining egg whites until smooth, light, uniform mousse forms.
Spray acetate sheet with nonstick cooking spray. Wipe sheet with paper towel to ensure spray is evenly distributed. Using offset spatula, spread mousse onto prepared acetate 1/2 inch (1.3 cm) thick. Transfer acetate to dehydrator tray and dehydrate at 150°F (66°C) for about 6 hours, or until crisp. Break into roughly 3-inch (7.6-cm) square pieces.
Cassia Ice Cream
50 g (1.8 oz) cassia buds
1100 g (2 lb 3.3 oz) whole milk
2 gelatin sheets
100 g (3.5 oz) sugar
25 g (.9 oz) nonfat powdered milk
5 g (.2 oz) Louis Franois STAB 2000 stabilizer
10 g (.4 oz) glucose powder
25 g (.9 oz) sweetened condensed milk
In small, dry skillet, toast cassia buds over medium heat for 5 minutes, or until fragrant. In medium saucepan, bring toasted cassia buds and milk to a simmer over medium heat. Remove from heat. Let steep for 15 minutes. Strain through chinois into medium bowl. Discard buds. Immerse gelatin sheets in ice water for 5 minutes, or until pliable. Gather gelatin and squeeze out excess water. Add gelatin, sugar, milk powder, stabilizer, glucose, and condensed milk to warm infused milk and blend with immersion blender until ingredients are fully incorporated. Strain through chinois. Transfer to Pacojet canister and freeze overnight. Process in Pacojet 1 full cycle. Return to freezer.
Tempered Chocolate
200 g (7.1 oz) bittersweet chocolate, 64 percent cacao
8 chocolate mousse chips
Break chocolate into 15- to 30-g (.5- to 1.1-oz) pieces. Place mousse chips on sheet tray, and arrange 2 or 3 pieces on each mousse chip. Place sheet tray in warm place (100¡ to 125°F/38¡ to 52°C), such as stove top with oven turned on or under heat lamp, and leave until chocolate softens but retains its shape. To check if chocolate is liquid all the way through, push a pin into the middle. If there is no resistance, it is ready to be garnished. For ideal results, temper chocolate pieces at a steady 95°F (35°C) for about 20 minutes.
To assemble and serve
16 to 24 bergamot flowers
In small saucepan, warm bergamot tea. Pour into sauceboat. In large bowl, arrange 3 fig halves in center to form base. Place quenelle of cassia ice cream on figs. Carefully slide offset spatula under mousse chip and transfer to bowl, placing it on top of ice cream. Garnish soft chocolate with bergamot flowers. Serve dish dry. Pour warm tea in bottom of bowl at table.

Commentaires
Poster un commentaire